The world economy has been in troubled waters since late 2018. The US – China trade war rattled the markets and triggered the significant changes in global supply chains. Many industrial giants were actively discussing the dislocation of production facilities from China to South East Asia nations such as Vietnam and Cambodia seeking to decrease the negative impact of the trade war. The January 15, 2020 signature of the US – China partial trade deal, which envisaged steps to root out intellectual property theft, forced technology transfers, and a $200 billion increase in Chinese purchases of U.S. goods over two years, seemed had a potential to take world economy off the life support mode.
However, the novel Coronavirus (COVID – 19) outbreak, which started in Chinese Wuhan city, has launched its seemingly unstoppable march around the globe since late January 2020. Already in late February it appeared in 38 countries and on March 11, the World Health Organization declared a global pandemic as the COVID – 19 rapidly spreaded across the world. The governments have started to launch drastic measures in attempts to contain or at least mitigate the impact of the outbreak. These measures include closure of borders, suspension of flights and putting entire cities and regions in quarantine. The US President declared travel ban from the Schengen border free area on March 11 and a national emergency on March 13. In recent days some European countries, like Poland and Ukraine, have also introduced total travel bans. Though travel bans do not apply to the movement of goods, they will definitely have negative impact on world economy, especially on sectors such as tourism and airline industry.
As economists were seeking to calculate the negative impact of Coronavirus, yet another blow hit the world economy – the breaking of oil-sector cooperation between Saudi Arabia and Russia, which occurred in Vienna on March 6. Saudi Arabia was demanding a substantial further production cut, (current OPEC+ production cuts of 1.7 million b/d be extended until the end of 2020, instead of March 31 as was initially envisaged, with an additional reduction of 1.5 million b/d for the same period of time), while Russia just wanted to prolong the production cuts applicable until March 31, 2020 for another three months. Already on March 7 Saudi minister of energy visited Aramco headquarters and the company thereafter sharply reduced (by $6 to $8/b) price differentials for its crude oil exports in April. A few days later, the CEO of Aramco stated that he had received a directive from the Ministry of Energy ordering him to increase production to 12.3 million b/d in April, instead of the current 9.7 million b/d. As a result of these actions oil prices plunged by almost a third on Monday, March 9, the biggest drop since the 1991 Gulf War. With the COVID – 19 outbreak slowing trade, transportation and other energy-intensive economic activities, demand is likely to remain weak. Even if Russia and Saudi Arabia resolve their differences, a global oil glut could keep prices low for years. COVID – 19 and oil price decline brought about turmoil in world economy. On Monday, March 9, global stock markets suffered from the greatest single-day fall since 2008. This record crash was surpassed on March 12, when the Dow Jones Industrial Average and S&P 500 Index suffered from the greatest single-day percentage fall since the 1987 stock market crash. Despite the fact that on March 13 the US stocks posted their best day since 2008, in general stock markets have recorded serious losses during the march 9-13week. The US Federal Reserve made an extraordinary decision to cut interest rate almost to zero on Sunday March 15 to prop up the US economy, but on Monday, March 16, all the indexes again posted major losses.
Amid these global shocks experts in Armenia are seeking to assess the impact of oil price decline and COVID – 19 on Armenian economy. Armenia has witnessed a quite strong GDP growth in last three years (7.5 percent in 2017, 5.2 in 2018 and 7.6 in 2019). In 2019 the key drivers of growth were trade and services, which together accounted for 54 percent of the GDP and 5.3 percent of GDP growth. Other pillars of 2019 economic growth were the 32 percent increase in copper concentrate export (562000 tonn/637 million USD), the three fold increase of car imports (189000 cars) and 14.7 percent increase of tourism (approximately 1.895.000 tourists visited Armenia in 2019). The Armenian currency, Dram (AMD), was the most stable currency of the region for the last five years. After the 20-22 percent depreciation in December 2014, the AMD has very stable value against USD in the period of January 2015 – February 2020.
At the beginning of the outbreak Armenia seemed was lucky to avoid the negative developments. There were no identified cases till March 1 and only one case in the period of March 1-10. Thus, Armenian government made only few steps concerning the outbreak such as cancellation of the visa free regime with China at the end of January for the period of two months and closure of land border with Iran and cancellation of Tehran – Yerevan flights starting February 24. However, rapidly growing number of identified cases (from 4 in the evening of March 11 to 64 in the morning of March 17), forced the government to take tough measures. The Armenia – Georgia land border was closed on March 14 for the period of 10 days and national emergency was declared on March 16 for the period of one month (till the evening of April 14).
Thus, despite sound economic indicators for previous years, Armenia is facing tough economic outlook for the 2020. All currencies of neighboring states, (Azerbaijani manat, Georgian Lari, Turkish Lira and Iranian Rial) have depreciated since January 2015 and the Russian ruble has lost almost 10 percent of its value as a result of oil prices slump since March 9, 2020. This makes Armenian export less competitive especially in the Russian market, which continues to be the top destination of Armenian exports (27.2 percent of all Armenian export for the period of January – September 2019). The 10 percent of depreciation of the ruble will result in decline of the average Russian consumer's purchasing power, which will put additional pressure on Armenian exporters. Most probably, Armenia will face decline of the remittances coming from Russia (almost two billion USD remittances were sent to Armenia in 2019 and Russia accounted for one billion 55 million of them), which will also have negative impact on Armenian economy.
Meanwhile, due to the worldwide travel restrictions the world tourism sector will face its worst year in decades. This means that Armenia will lose one of the key pillars of its economic growth in 2020. Simultaneously, the Coronavirus outbreak driven economic slowdown has already triggered a moderate decline of both copper prices and demand (the copper price on the London Metal Exchange at the end of February 2020 was US$ 5573/t while the price at end of January 2020 was US$ 5621/t).
Thus, Armenian economy is simultaneously facing multiple negative trends – sharp decline in tourism sector, decrease of copper prices, possible decline of remittances sent from Russia and decline of exports to its key destination. The closure of passengers' flow at the land borders with Georgia and Iran (the only two functioning land borders of Armenia) will have additional negative impact. All these factors may result in decline of state revenues and increase of the budget deficit.
One of the measures to mitigate the impact of Russian ruble depreciation on Armenian exports could be the moderate and eventual depreciation of Armenian currency (up to 7-10 percent). We have already witnessed some movement towards that direction as Armenian dram has lost approximately 2 percent of its value against the USD in recent week. Economic experts are actively discussing other possible measures such as tax breaks for tourism sector and decision by banks to provide loan payments postponement for the period of 3-6 months. However, most probably Armenian government will revise its expectations of 4.9 percent GDP growth for 2020 and even embrace itself for the possible GDP decrease.
Meanwhile, the global economic slowdown and oil price slump entails also security risks for Armenia. Here the key threat may come from neighboring Azerbaijan. Despite several efforts implemented by Azerbaijani government economy is still heavily dependant on oil revenues and the 2020 state budget is calculated at an oil price of $ 53-55 per barrel. Thus, if average oil price for 2020 is in the range of 30-40 USD, Azerbaijan will face significant economic problems and even recession is quite possible. It should be emphasized that April 2016 hostilities in Nagorno Karabakh followed the tumultuous 2015 when Azerbaijani Manat undergone through two sharp depreciations and spontaneous anti government protests broke out in several Azerbaijani towns in January – February 2016. Thus, there is a possibility of resumption of hostilities in Karabakh as a tool to divert the population attention from socio – economic problems and unite people around the government against external enemy. However, it should be noted that both Armenia and Karabakh are much more prepared than in April 2016 and this should be a deterrent factor.
Nevertheless, in 2020 Armenia may face its most difficult year in economic terms since 2009 when due to the 2008 global economic crisis Armenian GDP declined for more than 14 percent.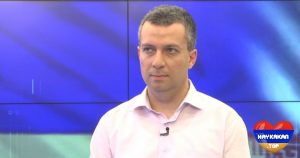 Dr. Benyamin Poghosyan, Chairman, Center for Political and Economic Strategic Studies