The November 2020 Presidential elections will probably be the most polarized one in recent American history. The society is divided almost on every critical issue facing America. The foreign policy was never been a decisive factor in the US elections. Americans mainly vote based on the economic situation. However, as the US, despite its relative decline, still remains the sole military superpower and has capacities to seriously impact the geopolitical developments all over the world, almost all countries are looking forward to the election results, simultaneously seeking to understand the key features of the US next administration foreign policy agenda. Being caught between US – Russia confrontation and embracing for the growing Chinese influence and the US – China rivalry, Eastern Partnership countries are not exclusion. The November 2020 election results will seriously impact their foreign policy choices and in some cases will have significant influence on domestic political developments.
The presumptive democratic nominee Joe Biden has already presented key features of his foreign policy in case of his victory. The cornerstones of this policy are the restoration of American leadership and efforts to "bring back America at the head of the table". Biden is going to put strengthening democracy back on the global agenda by organizing and hosting a global Summit for Democracy to renew the spirit and shared purpose of the nations of the free world during his first year in office.
As for the US relations with new archrival, the key pattern of his China strategy will be the establishment of the united front of U.S. allies and partners to confront Beijing. Biden most probably will embrace tougher policy against Russia putting strengthened NATO at the forefront of Russia containment policy. Simultaneously the US will increase support to Russian civil society hoping to weaken President Putin from within.
The Eastern partnership countries which are squeezed between Russia and the West will definitely bear the main brunt of Russia – US confrontation. It should be noted that despite President Trump's personal inclination to normalize relations with Russia, bilateral relations hit new bottom in the last three years. If Biden wins the elections, no substantial improvements are possible in US – Russia relations. The Biden administration renewed emphasize on democracy promotion may result in increased US involvement in Post – Soviet space. This may usher in more US assistance to countries such as Ukraine, Georgia, Moldova, and Armenia. Meanwhile, increased US – Russia tensions will further diminish any prospects for the settlement of protracted conflicts in Abkhazia, Donbass, Nagorno Karabakh, South Ossetia, and Transnistria. Russia, for its turn, will increase efforts to counter US anti-Russian measures and will view "In between states" as the necessary buffer to prevent US activities to reach Russia.
These developments will have significant impact on Eastern partnership countries. While firmly anchored in Russian sphere of influence, Armenia since its independence has sought to establish partner relations with the US, EU and NATO. This direction of Armenian foreign policy has been boosted after the 2018 "Velvet revolution" which was welcomed by the Euro-Atlantic community. Meanwhile, it's clear that if Biden administration seeks to undermine Russia in the South Caucasus, Turkey will play "a role of bulldozer".
In this scenario Armenia faces two options: if Yerevan wants to align with the American policy in the region, it should come to terms with Azerbaijan and Turkey, but is possible only if Armenia capitulates in Karabakh. The other option is to keep its alliance with Russia and jointly prevent the growth of Turkish influence in the region thus acting against US strategic interests. Meanwhile, if Biden drops off the policy of "maximum pressure" against Iran and seeks to renegotiate 2015 nuclear deal with acceptable conditions for Tehran, this may create new economic opportunities for Armenia given the land border with Iran and the interim agreement enabling the formation of free trade area between Eurasian Economic Union and Iran.
Since ascending to power in Georgia in late 2012 the Georgian Dream and its leader Bidzina Ivanishvili have sought to continue Georgia's policy of euro-Atlantic integration and simultaneously to launch the normalization process with Russia. In recent years both countries have re-established economic connections and despite June 2019 events and afterward developments, relations are in better shape now than in mid-2012. However, growing Russia containment policy will restrict Georgia's flexibility, as the US will put more pressure on Tbilisi asking to embrace for overt anti-Russia policy. The parliamentary elections in Georgia are scheduled on October 31, 2020 and thus possible Biden victory will not influence them. However, the new Georgian Dream government (in case of party's victory) very soon may find itself in geopolitical jungle.
Moldova has already been embroiled in Russia – West confrontation. The June 2019 surprise Russia – EU – US cooperation which brought about sudden end to tycoon Plahotnyuk's rule and the creation of coalition government by pro-Russian and pro-West forces led by Prime Minister Sandu proved to be short lived. Already in November 2019 Moldova witnessed another change of government and the consolidation of power by pro-Russian President Dodon. However, recent transformations in Moldovan parliament have almost deprived Dodon's controlled government from majority, while country actively prepares for the November 1, 2020 Presidential elections. Most probably the main candidates for the top job in the country again will be Mr. Dodon and Ms. Sandu. Regardless of the elections' results Moldova will continue to be deeply divided between Pro-Russian and Pro-West forces and any escalation of US – Russia tensions will only exacerbate the situation. Meanwhile, this will make any tangible results in 5+2 talks on settlement of Transnistria conflict even less likely.
Ukraine – Russia relations have been ruined in 2014 and despite President Zelenski's promises to end the war in Donbass, no tangible achievements in conflict settlement have been made since his ascend to power in April 2019. Thus, regardless of the US elections results Ukraine will continue to perceive Russia as his main adversary and thus any deterioration of US – Russia relations will not have serious impact on Ukraine foreign policy: However, Ukraine was pulled into the US domestic politics by the President Trump's impeachment process, and the Trump's supporters' accusations against alleged corrupt ties between then Vice President Biden and former Ukraine President Poroshenko. Given the criminal investigations launched against Poroshenko and his possible indictment election of Biden may boost Poroshenko's positions in Ukraine and put pressure on Prezident Zelenski to cease the criminal investigations.
Belarus is facing the most tensed Presidential election campaign since President Lukashenka's election in 1994. Interestingly, many external observers argue that Russia seeks to use in Belarus the same technologies of "regime change" which previously were deployed by the West in some post-soviet countries. Most probably, Russian key goal is not to topple Lukashenka, but to force him to use violent force either before or after the August 9 elections, thus effectively preventing Belarus – West rapprochement process which started in recent years. If Lukashenka wins elections without tough crackdown on opposition, Biden administration will continue to work with Belarus seeking to slow the integration processes with Russia. However, if either before or after elections Lukahsneko will be forced to take radical measures against opposition including long-term arrests of such actors as Viktor Babaryka or Valery Tsepkala, Biden administration, with its renewed emphasize on democracy promotion, will have no option but to freeze the US – Belarus relations and adopt some new sanctions against Lukashenka and his inner circle.
Since its independence Azerbaijan has sought to pursue multi vector foreign policy balancing its strategic alliance with Turkey and energy partnership with the US and EU with deepening economic and military cooperation with Russia. The tougher anti-Russian policy of Biden administration will increase the US attention towards the "Southern gas corridor", the project which brings Azerbaijani gas to Europe circumventing Russia. Americans may put more efforts to launch also Trans-Caspian gas pipeline connecting Turkmen gas to the "Southern gas corridor". This will create additional opportunities for Azerbaijan to deepen its cooperation with the US. Meanwhile, given the deplorable situation in Azerbaijan on the issues of the rule of law and protection of human rights, the embrace of democracy promotion policy may trigger some concerns in Baku that the US may tacitly support Azerbaijani opposition. However, Biden's victory will not have significant impact on US – Azerbaijan relations or on Azerbaijan foreign policy.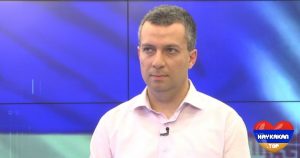 Dr. Benyamin Poghosyan, Chairman, Center for Political and Economic Strategic Studies