The 2019 was not marked by fundamental changes in Armenian foreign policy. Despite all discussions and experts' opinions regarding the possible deterioration of Armenia – Russia relations or serious changes in Karabakh negotiation process, the new government of Armenia mainly continued its predecessor's policy. Armenia – Russia alliance continued to be the cornerstone of Yerevan foreign policy. The visits of President Putin, Russian Defense and Foreign Ministers in October – November 2019 proved that Armenia has little if any alternative to significantly amending its external relations.
May be the only new pattern in Armenia – Russia relations is the efforts by new Armenian government to prove its loyalty to Russia and rejecting any claims of hidden "Anti-Kremlin agenda". This situation is exploited by Russia to increase pressure and get additional concessions. The key example was the decision to send Armenian humanitarian mission to Syria despite clear objections from the US. The possible signature of memorandum on granting to Russian specialists access to the biological laboratories established in Armenia through the US funding may be another proof of this reality.
Nothing revolutionary happened also in Armenia – EU relations. They are continued to be centered on the implementation of the Comprehensive and Enhanced Partnership Agreement signed by former Government in November 2017. The Road Map was confirmed in June 2019 and initial negotiations are underway to launch the visa liberalization dialogue with the EU. Some EU member countries, such as France, Sweden and Czech Republic are rather skeptical on this issue but most probably till end of the 2020 the decision will be made to launch dialogue with no clear end date.
The Karabakh negotiation process has its own ups and downs. After the January and March 2019 meetings of two leaders in Davos and Vienna as well as several discussions held between Ministers of Foreign affairs in January, April, June and September there was some hope of possible advancement in the negotiation process. The November 2019 journalists' visit to Armenia, Karabakh and Azerbaijan, the first such move since 2001 was perceived as a real progress in the context of preparation of the populations for peace. However, December 2019 meeting in Bratislava as well as speeches of the Armenian and Azerbaijani foreign ministers during OSCE Ministerial conference have shown that nothing has been changed in two sides perceptions. However, the statement by the OSCE Co chair countries heads of delegations which again emphasized the significance of the Madrid principles and six elements publicized by the Co-chair countries Presidents in 2009-2012, might brought the negotiation process back to the summer 2009. Meanwhile, that process resulted in the Kazan failure of June 2011 and the war of April 2016. This should worry Armenian side as the Kazan document prepared during the negotiations of 2009-2011 and based on the so called "six elements" was unacceptable for absolutely majority of Armenian and Karabakh society. Meanwhile, after the April 2016 war perceptions in both Armenia and Karabakh were hardened which means that any attempts to convince Armenian society on the necessity of the 'Madrid based solutions" will definitely result in tough rejection with possible domestic instability.
Another key event of 2019 was the Armenian Genocide recognition by both the US House of Representatives and the Senate. The move was a result of a combination of different factors; US – Turkey tensions, approaching US elections, efficient lobbying by Armenian organizations, etc. However, the real benefits for Armenia beside moral satisfaction are not so clear. The key issue in Armenia – US relations for Yerevan is the task of bringing American investments and we should wait to see if these resolutions will have any effect on this.
As for Armenia – Turkey relations, there are no prospects for breakthrough. Relations with Armenia are not priority for current Turkish government and given deepening AKP – Nationalist Movement alliance, the Turkish government stance on Armenia most probably will harden. Thus, any changes in bilateral relations are possible only after change of government in Ankara.
There are several key issues to watch in 2020. The first is Karabakh negotiation process. The next meeting between two foreign ministers will take place in January 2020 and there are some signs of possible leaders' summit at the first half of the year. However, all solution options discussed since 1994 envisage the change of the Nagorno Karabakh Republic territorial integrity. This will bring about tough security risks for both Karabakh and Armenia and therefore is unacceptable for absolute majority of Armenia and Karabakh population. Thus, the only possible way forward for Armenia is to insist on the implementation of the May and June 2016 Vienna and Saint Petersburg agreements on ceasefire violations investigative mechanisms and the extension of OSCE monitoring mission as the preconditions for any serious negotiations. Given the Azerbaijan negative approach on this issue as it will deprive Baku possibility of using start of the new war as an effective blackmail tool, this approach may give Armenia necessary time to articulate new framework of the solution and present it to the mediators as an alternative to the Madrid principles and elements.
Another key issue concerning Karabakh is the March 2020 Presidential and Parliamentary elections there. Definitely, Armenian government is interested to have friendly authorities there. Meanwhile there are candidates who are toughly criticizing current Armenian authorities. However, given the level of influence which Armenia has in Karabakh, we may assume that most probably the new President of the Nagorno Karabakh Republic would be an acceptable person for Yerevan.
The key in the relations with EU for 2020 is the launch of the Visa liberalization dialogue and the effective implementation of the CEPA. However, EU is not a strategic player in the South Caucasus and Brussels can not bring significant chasnges in Armenia.
Armenia should review its relations with China too. In spring 2020 the new Chinese embassy building will be opened in Yerevan. However, as for now, Armenia has no strategic vision for its relations with Beijing and bilateral connections are based on Chinese donations of public buses and ambulance cars. Meanwhile, given its membership into Eurasian Economic Union and GSP+ system with EU, Armenia should elaborate a strategy and position himself as a trade and production hub for Chinese companies to enter Southern Russia and EU markets. Given the infrastructure restrictions faced by Armenia emphasize should be put on the production of goods which can be shipped by air, such as smart watches, smart phones, tablets and laptops.
Thus, most probably Armenia will face no significant changes in its foreign policy in 2020. The strategic alliance with Russia will remain firm in place and some minor improvements are possible in relations with EU and China. However, the key task for Armenia is to avoid the repeating of 2011 situation when he will be offered to sign an unacceptable document on Karabakh.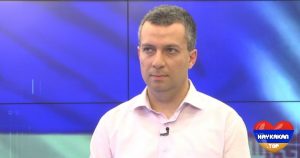 Benyamin Poghosyan, Chairman, Center for Political and Economic Strategic Studies