CIAKR-South Caucasus presents an interview with Turkish political scientist, Professor of Kahramanmaras Sütçü Imam University, Turkey, Togrul Ismail.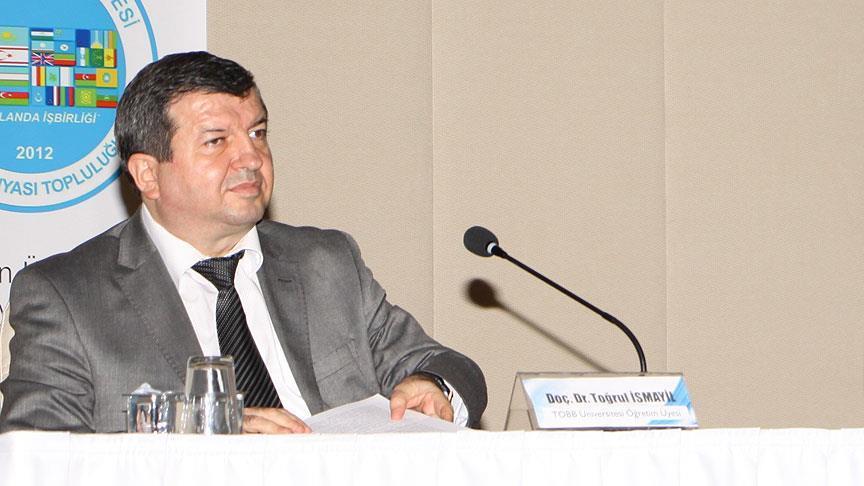 Recently, Turkish President RT Erdogan's visit to Russia ended, and a meeting between President Vladimir Putin and Russia took place. What was the need for this meeting?
This visit, however, was really special. The meeting was held at Zhukovsky during the MAX-2019 air show.
In fact, the main issue under discussion was the Syrian issue, in particular the Idlib issue. Idlib's theme is very important to Ankara as it poses a serious, basic threat to Turkey's national security. It should be borne in mind that the situation in Idlib today is not easy. Assad's regime, with the support of Russian aviation, bombs an area where opposition forces are located. The regime justifies the bombings by the fact that terrorist groups are hiding there. As a result of a bombing carried out with the support of Russia, an attack on a Turkish convoy was made and one of Turkey's 12 checkpoints was reportedly surrounded. These are very serious issues that were discussed at the meeting between Putin and Erdogan.
There was also no discussion of economic issues.
What is the current situation in Idlib? Why can't Russia and Turkey agree on the Idlib issue?
To the best of our knowledge, during the Tripartite Summit in Astana, the parties agreed to create a de-escalation zone. Idlib was in the Turkish influence area, where official Ankara promised to build 12 observation points. At one time, Russian media also criticized Turkey for not being keen on building these points.
It should be noted that the construction of the zone is a bit labor-intensive process, and Turkey has acted very carefully. At the time, the Russian media also reproached Turkey for allegedly not controlling the situation. Now we see how today the Russian media say that today 90% of the territory is controlled by government forces. In fact, this is not true. Again, the area is not controlled by government forces. But with the support of the Russian air forces, the Assad regime is attacking the region. There are those killed. About 500 people have already died. A stream of refugees was formed. This is a violation of certain de-escalation arrangements.
Yes, Russia is interested in taking Assad's regime under control of Assad. On the other hand, Russia does not like the rapprochement between Turkey and the United States. I think this is an offensive by the Syrian army - a warning to Turkey about the fact that if you continue to act with the US, then we can support the Assad regime, etc.
The Turkish army is the strongest in the region. Russia will not go to direct clash. Turkey - similarly. But in all matters there is a red line, the limit for nerves. Such provocative outbursts of the Assad army could eventually lead to very strong resistance and serious clashes that would result in the Syrian side losing. Turkey does not want to enter the war, only engaged in anti-terrorist operations. Russia is also well aware of this. Just like Syria and Iran.
The Astana agreements are tactical. Strategically, Russia and Turkey have completely different plans. But in the end, I think the parties can come to an agreement. Turkey and Russia want to see Syria as a unitary state and do not go through its division. But at the same time, both states also do not want to retreat from there. Turkey believes that the 900 kilometer border with Syria gives enough reasons for Turkey to be in the region. Moreover, Russia is far from here, to put it mildly…
Why is Idlib so important to Turkey?
In an geopolitical sense, Idlib is of interest to Ankara, since if it is under Turkish control, the factor of creating artificial state education (Kurds) is completely eliminated. Otherwise, Turkey will be cut off from the Middle East and some buffer state will be formed. In addition, there are many factions in Idlib, including political groups under Turkish control.
There is a mutual agreement between Russia and Turkey, according to which both countries have recognized certain armed groups as terrorist. There are provocations. An unmarked aircraft bombed positions, there is also information about wounded or killed among the Turkish military. Any provocation that may lead to armed confrontation is possible.
Russia does not hide that it is interested in taking Assad's regime under control of all Syrian territory. This is done to strengthen the position of Russia itself.
Naturally, Turkey has its own interests in the region. Here, the Russian side needs a little understanding of Turkey. Otherwise, we are on the threshold of a new conflict. The deepening of the crisis cannot be given. I want to remind the incident with the Russian plane. At that time, the Russian side also did not take into account Turkey's interests, violating its air space. The result was a very serious conflict. Now it is necessary to understand that if another similar crisis begins, it will not be possible to resolve it in the shortest possible time. Putin and Erdogan are experienced politicians. I think they will find a way out of the situation. Turkey has more responsibility. Russia, in turn, should rely on Ankara.
Do you think Putin and Erdogan settled the Idlib issue among themselves?
I do not know what Putin said about whether Idlib is Russian or not. But there is an agreement that the de-escalation zone in Idlib is within the sphere of influence of Turkey, which will not allow any other forces to emerge there. I repeat that Turkey has a certain limit. If this limit is passed, it will take appropriate action.
The same applies to the Manbidge region. Turkey is trying to negotiate with the Americans. She has her own interests, especially as the Americans have promised that in Manbij, PYD forces will move east of the Euphrates. But Turkey proves every time that it can conduct any military operation there at any time.
Moreover, I do not think that Russia will confront Turkey because of Idlib. There is nothing for Russia. Russia also needs such a regional partner as Turkey, in particular in its confrontation with the US, as Iran is a very unreliable partner. Russia does not trust him. If someone should negotiate on Syria, so is Russia and Turkey. Idlib is Ankara's area of ​​interest. If the parties agree, it will mean that Russia has made some serious concessions to Turkey.
Turkish President Erdogan did not rule out the possibility of buying Russian fighters - Su-35 and Su-57. How decisive is the Turkish side in this matter? Is Turkey really ready to buy these fighters instead of the American ones?
During the meeting, the Russian and Turkish sides showed the Americans that there was agreement on all issues, some understanding. This is beneficial for both Turkey and Russia. Americans are very upset. The Western press is stating that Turkey and Russia cannot be closer.
It should be borne in mind that the policy of Russia is to upset the union between Turkey and the US to the utmost, so that a split can occur between Turkey and the West. This is the Russian side on hand. Turkey wants to show the US that Ankara always has an alternative. If you remove us from the F-35 project, then we can easily buy similar fighters from other countries. In particular, in Russia. If the C-400 is a defense system, Turkey has the right to buy such a system from Russia to ensure its air security. Even if Russia is not a NATO member. This does not violate NATO's charter. In this matter, Turkey is one hundred percent right.
It is impossible to buy offensive weapons for the reason that Turkish military pilots have long been trained by Western, NATO specialists. Therefore, finding pilots with experience in operating Russian aircraft will be very difficult now. These are purely military-technical difficulties. In order to showcase something in the US, Turkey can buy several planes. But it will not lead to anything. It will be a gesture towards Russia and at the same time throw several hundred million dollars into the wind.
Turkey shows great interest in Russian weapons - the C-400 missile systems (components of which have already been delivered to Turkey), now the fighters are Su-35 or Su-57; In your opinion, are Turkey and Russia preparing to become military allies? In general, how likely is this scenario?
It is too early to talk about any kind of military cooperation, because there are serious geopolitical problems between the two states. Russia and Turkey are not yet ready for this. Turkey is a NATO member. I do not think that Turkey will leave the alliance any time soon.
But it is also not clear that Russia wants this rapprochement. Yes, the purchase of the C-400 was realized; there were several helicopters. Turkey has been trying to improve military production in recent years. Turkey has acquired from Russia only one C-400 complex. Several dozen such complexes are required to protect all the borders of Turkey.
At the same time, there is no agreement on the creation of joint projects. Some negotiations are being held, but there is no need to talk about serious agreements.
In the field of energy cooperation, we see such an agreement. There is a mutual understanding in this area between Turkey and Russia. The official Ankara has created all the conditions for the development of the Russian energy sector in Turkey.
The trade between our countries leaves much to be desired. Therefore, the heads of state agreed to increase the turnover to $ 100 billion. But it is very difficult. On the other hand, we see here an imbalance in favor of Russia. Turkey mainly imports Russian oil and gas. As a result, the turnover looks great. But in fact it is insignificant. Despite the fact that Russia and Turkey are large powers, the trade turnover between them is poor. Today, the number one trading partner for Turkey is the EU countries. In order to establish military-technological cooperation, political issues should be addressed first. First, we need to reach a certain strategic understanding, only then can we talk about mutual trust and the creation of a joint military-economic complex.
By the way, there is such an opinion that Syria - a kind of swamp for Russia, where it will be very difficult to get out ...
Russia has trapped in Ukraine and Syria, and there is no way out. Even assuming that Assad's regime will liberate all territories, then in this case, the reconstruction of the country requires 200-300 billion, which Russia does not have. Today Russia is fighting instead of Assad.
The Americans, with the hands of Iran, Russia, Turkey, cleared the region and, in fact, achieved what they wanted. All energy-rich regions are controlled by the United States, which will not leave. Other states will not leave.
The most important thing here is how many states in the Syrian swamp are stuck there. Turkey tried its best not to fall into this trap. But as you see the provocative actions of the US, the creation of some kind of artificial education is not in Turkey's hand. Turkey's NATO-US ally has virtually ignored Turkey's interests. In a sense, Turkey has also become embroiled in the region. And it will continue for a long time.