- What trends in aircraft building demonstrated at the Le Bourget airline? What does this mean for Ukraine? How can Ukraine save its own aircraft industry and become a participant in international high-tech projects?
- If we take global trends, then we see a very significant increase in competition between the United States and European countries.
France, Germany and Spain presented the fifth-generation aircraft that are promoting together. This is a definite demonstration of the opportunities of the European Union. The EU is now concerned about the attempt of American companies to enter the European market, even forbidding certain American companies to participate in European developments.
This is a very significant trend that should not go unnoticed by Ukraine. It is very important for Ukraine today to develop its potential, to develop its own industry, but at the same time it is necessary, on the one hand, to achieve a serious level of bilateral cooperation with the United States, and on the other hand, to integrate its defense and industrial opportunities into the European club, on the other hand with the creation and development of high technology.
Unfortunately, this is very difficult. All these conflicts must be taken into account, while trying to organize the integration of their defense industry so that the interests of Ukrainian enterprises are protected as much as possible.
There is some, I would say, "positive success" with Poland - good projects of military-technical cooperation. A certain stage of working with Turkey has begun. This is also important because Turkey is a NATO country. But on the other hand, it is difficult for Ukraine to protect its interests here because the United States is not interested in developing some of the defensive segments of Turkey and "strongly recommends" not to cooperate, not to develop in such projects with Turkey.
Ukraine must agree, because the United States supports and provides military assistance. However, Ukraine is getting negative experience here. About this, in particular, they told the US Senior Advisor on the reform of the defense industry of Ukraine Donald Winter during his visit.
Remember Bushehr contract (The "Bushehr contract" provided for the participation of Kharkiv Turboatom in the Iran-Russia agreement on the supply of equipment for nuclear power plants to Iran. However, in 1998 Ukraine refused to participate in this project in exchange for the US initiative to deepen Ukrainian-American cooperation, in particular, in the field of high technologies - ed.)? Ukraine did not get the promised one either for refusing this - the Bushehr Treaty, nor for the refusal of nuclear weapons for Budapest Memorandum in the framework of strengthening the security and development of its defense industry.
And even now, when Russia violated the sovereignty and territorial integrity of Ukraine, both Europeans and Americans are rather restrained in the possibilities of transferring defense technologies to Ukraine.
Therefore, the conclusion is understandable - Ukraine needs to develop its own.
Therefore, I think it's good that Ukrainian companies still participate in such a forum as Le Bourget. It is very good that the Ukrainian aerospace industry, though partly, but integrated into major international projects, such as Antares и Vega. But, on the other hand, if there are no internal orders for airplanes and helicopters, Ukrainian aircraft building will continue to degrade.
- And how do you assess the potential of Russia?
- Russia is gradually losing its technology. The fact that Russia is successfully trading with many countries with its anti-aircraft missile systems, including with Turkey, is unclear. Because these complexes are more of an advertisement than the real size that manifested itself in the war. If you take airplanes, then the last disaster with a Russian passenger plane Superjet and the fact that Russia has not created any military transport aircraft for all these days, shows, in my opinion, the extreme degradation of Russia.
One can also recall as a fact, and as confirmation that India, which wanted to develop a military transport aircraft with Russia for a long time, renounced this partnership.
Of course, if you take the military aircraft, then Russia holds on this, so to speak, the peak of its capabilities and while it looks competitive. But segments such as regional passenger aircrafts and military transport aircraft are what always served as a business card of Ukraine, and due to this, Russia, so to speak, "produced" such aircraft through Ukrainian factories, then Russia is completely losing ground.
If Ukraine succeeds in finding an opportunity to cooperate with other countries in this area - not with Russia, then Ukraine will quickly demonstrate a separation from Russia.
If taken as a whole, then of course, that the Russian space industry still holds its position.
- At Lou Bourget, Russia, among other things, presented a draft landing for the moon.
- I cautiously approach the various statements of Russia in this regard. Over the past three years, Russia has stated that it is making a fifth-generation combat aircraft that it makes the aviation complex of long-range aviation, as well as the newest military transport aircraft. Nothing from the stated statement was made. Is it that Russia has demonstrated a combat aircraft of the 5 generation. However, these demonstrations, in my opinion, are very dubious.
So, if from three huge programs Russia can overcome only half of the program, then for observers it is an actual signal that, nevertheless, in the field of the latest technologies in Russia there is a degradation. This is a fact. And all this started all too long before the war against Ukraine.
I want to remind you that Russia had been ordered in France before the war Mistral - helicopters, and this is also evidence that Russia itself can not create such. Moreover, Russia even ordered military vehicles in Italy.
If a huge country that had only three armored troop "schools", which produced armored personnel carriers and various armored vehicles, came to the order of a huge party in Italy for such vehicles, it is also evidence of very serious degradation and problems in the technology sector.
- And sanctions act, how do you think?
- As far as I can judge, Italy, and during the war, continued to supply machine-tools. Unfortunately, we fixed it. I can not say about the last few years, but at the 15 level and it seems to be the case in 16 year.
Moreover, European countries are determined to cooperate with Russia. Both Germany and France are waiting for this. They are very interested because Russia can make huge orders, and in particular, in the defense sphere.
Of course, they are now afraid, because Russia has actually become a country that threatens Europe, but the business is very willing to cooperate with it.
Consequently, there may be hidden deliveries, when it is said that no military vehicles were supplied, and machine components, for example, and this could be issued for dual-use products. That is, business does not want to take into account politics, he wants to cooperate with Russia. Approximately such a situation.
- What in these all contexts do Ukraine do?
- To develop own production and technology, and at the same time to integrate into international projects.
Now Ukraine actually falls out of the integration context, apart from the space industry. At Le Bourget, Ukraine represented their carrier rockets. But the aviation industry - aircraft aircraft and helicopter industry - it can now exist in fact on internal orders. And they just did not exist.
And, this year can go down in history, because during Le Bourget a statement was made about ordering a batch of planes A-178.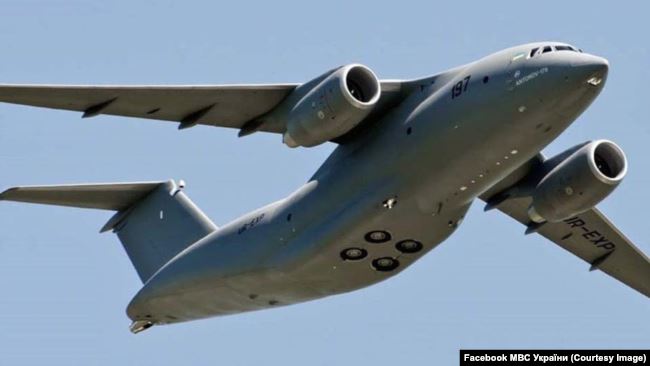 If this happens, then this will be the first major order for the domestic market and, in fact, may be an impetus for the aviation industry to come out of prolonged degradation, which was due to the lack of orders.
- Do you have any doubts that this will happen? Why?
- Because we have a lot of statements that did not go into real steps. I will consider it a serious matter when a concrete contract will already be available, funds will be allocated for this, and then - the Antonov plant will execute this order.
I can give an example - not so long ago the military department promised to order three planes, but this did not come to the order because it did not fall into the priorities.
The same applies to the helicopter industry. The fact that Motorsich announced that it will develop a new heavy helicopter, is an indication that this segment of the aviation industry in us is developing in spite of everything.
This is the "help yourself" situation. After all, the Ministry of the Interior last year ordered 55 French helicopters. It was a big blow to Motorsichi.
Rescued partly orders of the police department for the modernization and preparation of helicopters for the Armed Forces. But this is a very small order for such a serious enterprise.
Instead, with France, Ukraine signed a huge contract - if you count with interest, it will be about 700 million euros.
For such money, of course, Ukraine could raise national helicopter construction. And so, on paper there is a program "National Helicopter of Ukraine", and in reality there are quite a few other steps.
- Why is this happening?
- In my opinion, this is very much due to the fact that we still do not have a structure in the executive branch that would have taken care of the defense industry or dual-use goods.
There should be either the Ministry of Defense. And since the ministry is difficult to create, it would be possible to move step by step. First, for example, give the Minister of Defense, as it was in the 90-ies, the status of Deputy Prime Minister for Defense.
It looks solid when the Minister of Defense actually controls the defense industry and implements national defense and industrial policy.
And now, when there is no such policy, in our "manual mode" different groups realize their lobbying capabilities. And the MIA is a serious lobbyist.
- But any arguments were in favor of buying French helicopters, and not producing their own?
- It is difficult for me to explain it. The Ministry of the Interior, when promoting this idea, emphasized the need to quickly close the needs, and on the other hand, it was said that Motorsich, it seems, operates with foreign, that is, Russian component parts.
In my opinion, the issue of "Motorsichi" has not been carefully studied. In addition, lobbyism may have some other basis, but I can not say for sure.
What I can definitely say is that this contract has caused great damage to the helicopter industry in Ukraine.
Moreover, if these 700 million euros were distributed between the helicopter and the aircraft industry, then in fact it would have given a lot of orders to both helicopters and planes.
Yes, I can confirm that really military transport and patrol helicopters are really needed during the war, but if we buy 55 of French helicopters, then we could raise our own production for this money.
And so, every Ukrainian who pays taxes, he now supports not the Ukrainian helicopter, but the French industry.
Moreover, Ukraine will now take the whole system of service in France. For many years, we set ourselves in dependence on France - service, components, even training pilots, certification of this training, all this will be given and transferred to the French performer. This is despite the fact that we have our own.
- Are there any methods of counteraction?
- Analysts have long insisted that a law should be passed that will make it impossible to buy any technologies or products that exist in Ukraine. Such a law acted, in particular, in Germany.
This is the actual protection of a national manufacturer, and if this is not the case, then it leads to rapid degradation.
We now have a very negative trend when our enterprises are coming from Ukraine. I only know 4 companies that have gone to other countries, including South Africa, Lithuania, and the United Arab Emirates. We are dealing with the leakage of Ukrainian technologies, we are dealing with the outflow of the currency that can come not through the agrarian sector, but through high technology.
This is very dangerous and very problematic for Ukraine. This must be stopped and brought back to the side of the support of Ukrainian defense enterprises. Perhaps this will be done by a new team. Still, Petro Poroshenko wanted these problems to be solved not systematically, but "manually". He suited it. There was an initiative to create a "Defense Forces Agency", but Poroshenko did not support the creation of such a structure.
- And the law you mention, he has already developed?
- So. The draft law has been in parliament for more than a year and can not be approved. There is still a draft law of Ukraine on military-technical cooperation, which for many years, at least I remember the other versions were from the beginning of 2000 years, do not pass through parliament.
Why? But because it would regulate the whole system of military-technical cooperation, defense business, the production of weapons.
If all these bills - and there is still a law on offset agreements, there is still a law on the protection of foreign investments - would have been approved and worked, then there would be transparent rules of the game that would allow foreign companies to come to our market and work here in the transparent conditions.
If the new government is able to change the situation and, within a few months, to take away everything that hinders the arrival of investors, the arrival of new technologies in Ukraine and, ultimately, the support of its manufacturer, it can create the basis for a qualitative leap forward in Ukraine. And so, to enhance security.
Developed technologies, advanced production is a powerful security factor.
Valentin Badrak
Director of the Center for Research, Army and Conversion
for Radio Liberty